Even caning supplies abundant

Many have found joy in the art of caning, making fine works of furniture and restoring chairs. Caning is the process of creating the weave found on many fine chairs. The weave is the sole basis of the seat, and sometimes found on the back of the chair as well. The result is a very comfortable chair. Constantines.com has a wide selection of these caning supplies and other wood working hand tools for anyone with interest. Get started with a chair caning kit. Other basic caning tools and accessories are available to buy such as wedges, pegs, and more. These supplies will allow you to create beautiful woven works of art. Caning is an ancient craft, dating back over 3500 years. Continue the art in your basement or garage.
Try a wood corbel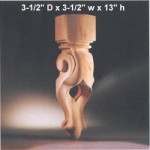 It's a wonder how adding a simple decorative piece to a house or building's corner can bring the entire architectural structure together, adding a feeling of completeness. If you're working on a building that's a little rough around the edges, consider adding a wood corbel to the corners, adding an air of elegance to the entire structure. In addition to using a wood corbel as decoration, you can also use them as functional support for mantels, cabinets, countertops, and shelves. To see the many different corbels we offer, you may wish to make use of the convenient search bar above. Thank you for your interest in our corbels. Also, please join our mailing list in order to receive periodical updates, specials, and more. Thanks for stopping by.