Unique hardwood trim

If you need to revive the looks of your house, a fresh coat of paint along with attractive trim and moulding can do the trick. At Constantines.com, you can find hardwood trim of the finest quality, allowing you to create a unique aesthetic in any room of your house. Because of its fine quality, our exotic hardwood lumber, and rough cut lumber can be used for any project. If you're a craftsman, create your own unique designs or even build new furniture from our fine woods. Also, we carry many decorative pieces, from legs and turnings to ornate inlays. For musicians, we even offer many different products designed for the construction of quality instruments. With our outstanding selection, you can find whatever materials you need to make beautiful wooden creations. Continue reading to learn more.
Exotic hardwood lumber available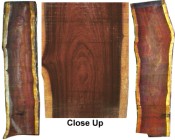 Constantines.com supplies professionals with top-notch lumber and exact hardware, for any project. The hardwood trim mentioned above is by no means the extent of our inventory. For any who have especially unique projects at their hands, we have an entire category devoted to exotic hardwood lumber. These selections can add a special touch to any project. To see the many available choices, follow the "hardwoods/lumber" link, then enter the "exotics" section. If you have any questions regarding any of our fine woods, please don't hesitate to contact us directly. We look forward to helping you create breathtaking works of furniture or architecture. Thank you for choosing Constantines.com, please come again soon.